Description
Hardware:
FortiGate 60D/60D-POE and FortiWiFi 60D/60D-POE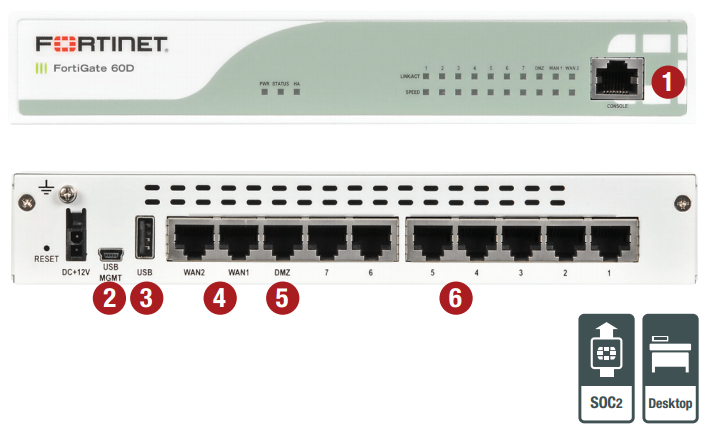 Interfaces
Console Port
USB Management Port for FortiExplorer
USB Port
2x GE RJ45 WAN Ports
1x GE RJ45 DMZ Ports
7x GE RJ45 Internal Ports / 5x GE RJ45 Internal and 2x GE PoE Ports on POE models
Powered by SPU SoC2
Combines a RISC-based CPU with Fortinet's proprietary SPU content and network processors for unmatched performance
Simplifies appliance design and enables breakthrough performance for smaller networks
Supports firewall acceleration across all packet sizes for maximum throughput
Delivers accelerated UTM content processing for superior performance and protection
Accelerates VPN performance for high speed, secure remote access
Install in Minutes with FortiExplorer
The FortiExplorer wizard enables you to easily and quickly set up and configure FortiGate and FortiWiFi platforms with easy-to-follow instructions. The application runs on Windows, Mac OS X desktops and laptops as well as popular mobile devices. Simply connect to the appropriate USB port on the appliance, and be fully protected in minutes.
3G/4G WAN Extensions
The FortiGate/FortiWiFi 60D Series includes a USB port that allows you to plug in a compatible third-party 3G/4G USB modem, providing additional WAN connectivity or a redundant link for maximum reliability.
Compact and Reliable Form Factor
Designed for small environments, you can place it on a desktop or wall-mount it. It is small, lightweight yet highly reliable with superior MTBF (Mean Time Between Failure), minimizing the chance of a network disruption.
Superior Wireless Coverage
A built-in dual-band, dual-stream access point with internal antennas is integrated on the FortiWiFi 60D and provides speedy 802.11n coverage on both 2.4 GHz and 5 GHz bands. The dualband chipset addresses the PCI-DSS compliance requirement for rogue AP wireless scanning, providing maximum protection for regulated environments.